Advertising
Let The Bus advertise for you
Advertising Policies

If you are looking to "drive" your advertising campaign to new places and achieve more with your marketing dollar, advertising on "the Bus" could be your solution. Versus print or radio advertising, your message will reach more people for a longer period of time—at a lower cost. You'll find that your message reaches a diverse audience, as both residents and thousands of visitors and tourists ride with us. For these reasons and many others, consider adding bus advertising as part of your marketing mix.
For information on mobile billboards
email mvrtd
Or call Kris Bascue at (802) 773-3244, ext. 124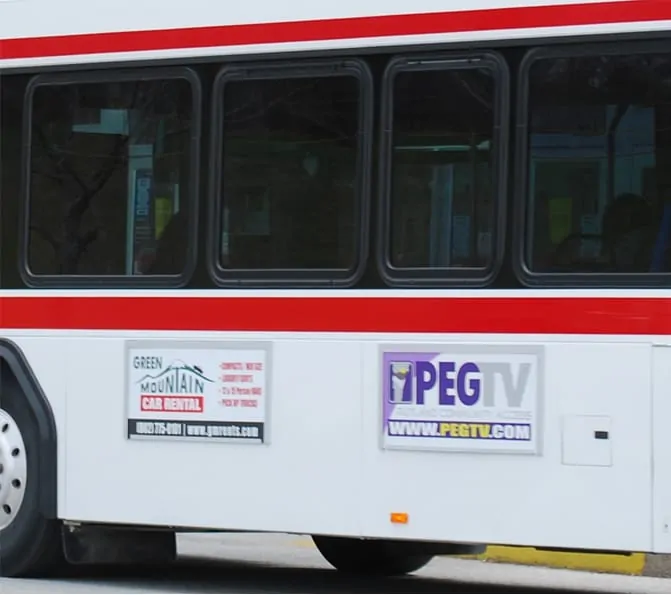 Individual sign specifications and monthly pricing
| | INSIDE LOCATION | OUTSIDE LOCATION |
| --- | --- | --- |
| 1 Month | $45/month | $90/month |
| 6 Months | $40/month | $80/month |
| 12 Months | $35/month | $75/month |
INSIDE sign location displayed above passenger seats.
INSIDE sign dimensions 11 inches in height by 22 inches in width; 11"(h) X 22" (w).
OUTSIDE sign location displayed on either side of the bus.
OUTSIDE sign dimensions 17 inches in height by 44 inches in width; 17" (h) X 44" (w).
Rates do not include design or production cost.
Signs are to be delivered to MVRTD at least one week in advance of start date.
Signs must be picked up within two weeks of end date.
Signs should be produced in a durable and weather resistant manner that will last for a minimum of three years. MVRTD reserves the right to decline any advertisement.